EHL's now legendary internal publication, La Marmite ("The Cauldron") was launched in 1969.

EHL students, staff and Alumni were able to keep up with news from the campus and beyond for the next 29 years - the last issue was published in 1998, 118 issues later.
Content was produced by a student committee, but management was also involved in writing articles. Here are a few extracts and anecdotes from one of the very first issues, published in 1969: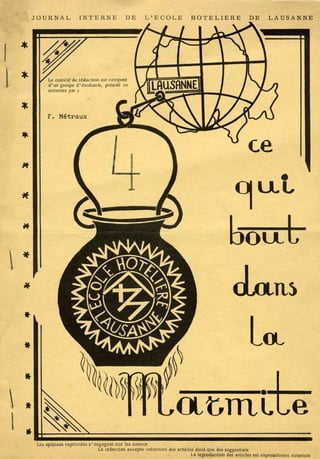 Celebrating at EHL: The ceremony for the 68/69 graduating class took place at the "Salle Paroissiale de Saint-Jean" and was followed by an aperitif on campus.

A selection process for EHL: Since in 1969, no strict selection process was in place, students believed that "natural selection" would ensure the quality of EHL's students would constantly increase. According to them, only the smartest and most hardworking would succeed in their studies, while the others would naturally fail – so they saw no need to develop a more comprehensive selection process for admission to EHL!

Things students and staff thought were missing from EHL:
Vans to come and pick up typwriters at student's homes (because they were so heavy)
A big student parking lot (to avoid getting up half an hour earlier to find a spot)
A person cataloging dating opportunities for students (in another words a dating agency)
A covered garage for Mr. Schweizer, one of school's Directors, so that his "coupé" wouldn't need to be washed every day.
Sports: Wednesday afternoons were now dedicated to extra-curiculum activities such as football, rugby and swimming, as well as chess, IT classes and professional development courses. Sports at EHL also included Yoga – especially for EHL ladies, obviously!

Today's sport culture at EHL has evolved since 1969 - have a look at this year's sports day trailer!