All year-round graduations
$$$$
What better way than to end your EHL curriculum than to have dinner at BDS, where it all started? Most of you have, most probably, already had lunch or dinner at least once during the years you spent at EHL, but your family maybe hasn't. Bringing your family here is guaranteed to please them as they will get an insight of what EHL offers its students (both on a curricular and student life level).
You will enjoy a relaxing evening with the people you love to celebrate this big step in your life by sipping on a special cocktail at the lounge bar before tasting a delicious one Michelin star menu in the cosy atmosphere of the recently renewed restaurant.
Be careful when booking a table for your graduation dinner: you have to be fast as the tables wear out very quickly! Also, make sure you book through the intranet and not the external website as the restaurant is reserved for EHL students on both nights of the graduations.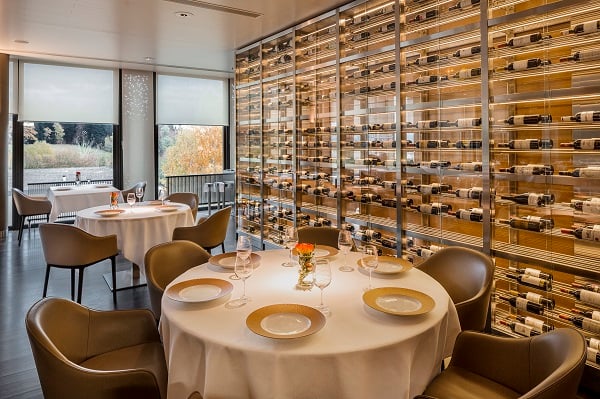 MP's Bar & Grill, Hotel Fairmont Le Montreux Palace
$$$$
Located in Montreux (30 minutes by car from Lausanne's city centre), the restaurant has an impressive meat and fish menu but also includes some vegan dishes, so that everyone can enjoy the breathtaking view you have if you dine on the terrace. Do not worry, should you dine inside because of the weather, you will still enjoy a sophisticated yet laid-back atmosphere with a cocktail bar and one of the best menus of the region. The restaurant is located in the Fairmont Hotel in Montreux, enchanting the visitors thanks to its architecture from the Belle Époque.
What a great way to end your curriculum at EHL in one of the most beautiful places of the "Swiss Riviera" surrounded by your loved ones!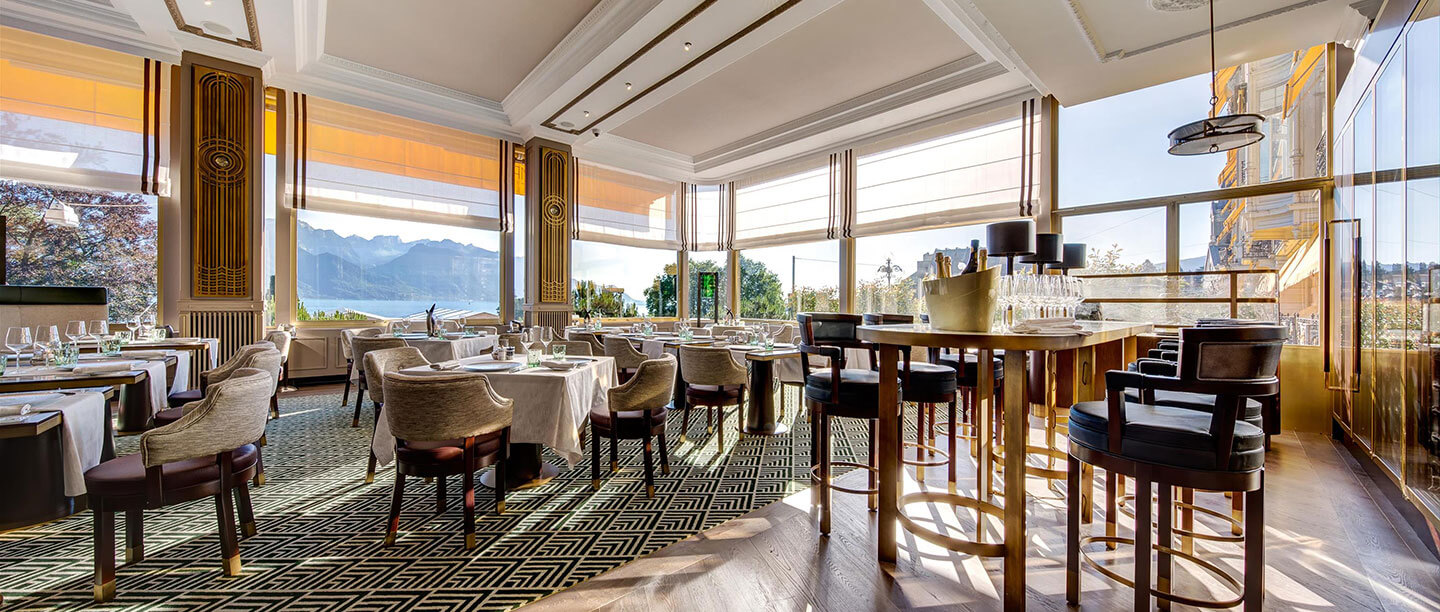 $$$$
19/20 at the Gault et Millau, 3 Michelin stars, over 50 years of service and 5 different atmospheres. Here's what you will encounter if you decide to book a table here. Located 15 minutes by car from downtown Lausanne, this restaurant is the best option if you are willing to spend a bit more to enjoy a unique gastronomic experience with your family. With the new program, students can enjoy this beautiful experience as part of their Preparatory Year, coming back for the graduation dinner is the perfect way to come full circle with your EHL life.
Your graduation can be the perfect moment to indulge in this once in a lifetime experience in one of the best restaurants in the world.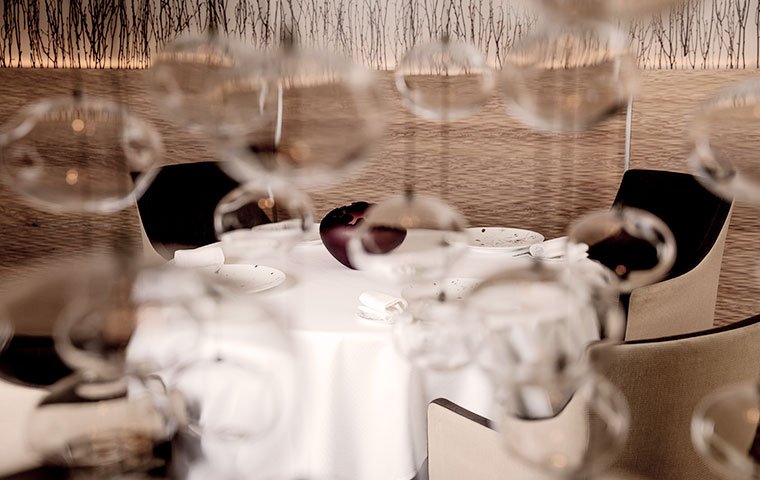 $$$
This restaurant is the perfect location for the ones who wish to indulge in a nice dinner but look for a wellness option to do so. A gorgeous panoramic view over the lake and the Alps only 30 minutes away from Lausanne, combined with fresh seafood and local specialties that you can also find in the vegetarian variations.
Before starting your dinner, you could even spend some time at the 45 Bar, where you can sip on delicious cocktail creations whilst enjoying the mountain view. The modern atmosphere paired with Belle Époque architecture is an amazing combination for a celebratory evening with your loved ones.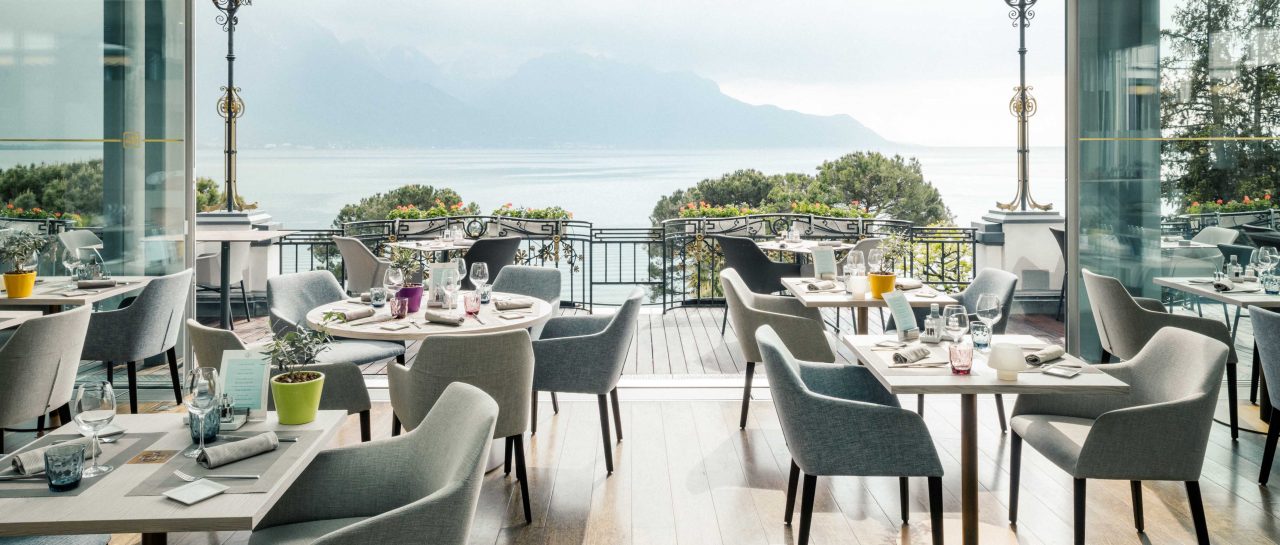 $$ - $$$
This restaurant is known by most EHL students and you may think it is not the best option for a graduation dinner, however it is more affordable than the ones mentioned above. Besides, if you ate there so many times while you were a student, it means you liked the food and the atmosphere. It is a great way to celebrate the end of this stage of your life than to go back to a place you spent a great time in during the last few years.
This restaurant focuses on home produce, which you can taste in the beautiful area surrounding it, or inside, looking at the nice architecture, unusual for a brasserie. You will find a menu full of seasonal products as well as a nice wine selection, to add up to your dinner. Make sure to check the online menu a few days before your reservation, as some dishes may require you to order those 24h in advance, and it would be a shame to realize you can't have it once you get to the restaurant.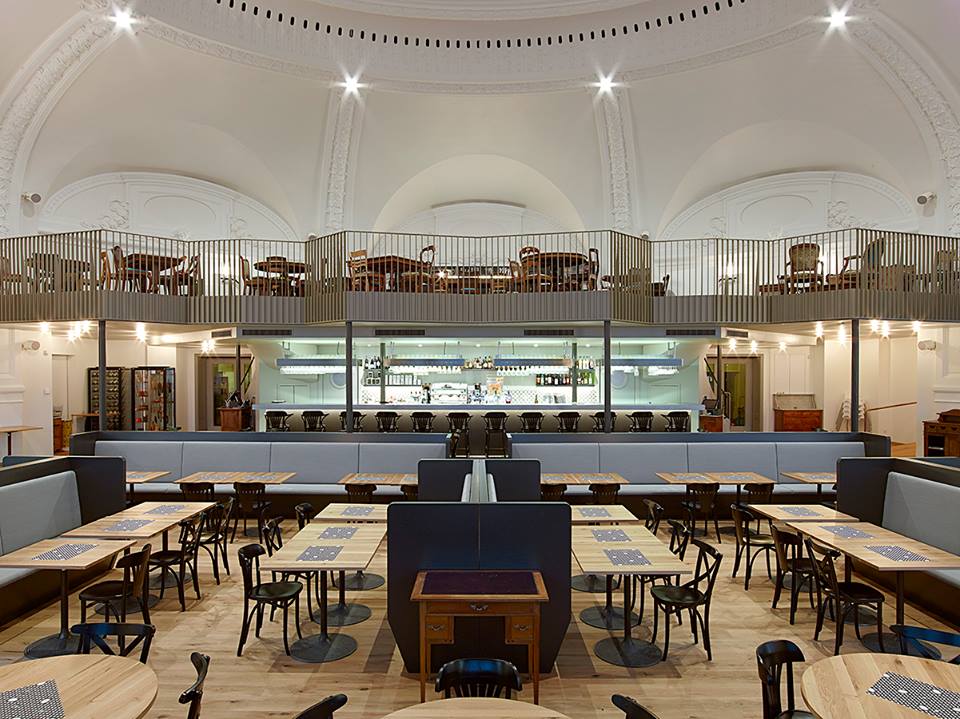 $$ - $$$
Like the previous option, this restaurant is more affordable than the other ones mentioned in this list. And it probably is a place you already know. The concept is friendly yet sophisticated. All the plates are meant to be shared with the whole table. The whole idea is for you to discover dishes from all around the world. Do not worry, the portions are not that big, so you will be able to taste all the delicacies that will be on the table.
To level up your dinner, the restaurant also offers various cocktail options and a wide selection of wines, to be paired with all your "tapas". This too is a beautiful way to end your life at EHL. Imagine, you were surrounded by many different cultures during the last few years, and the day before this journey ends, you get to taste dishes from all around the world.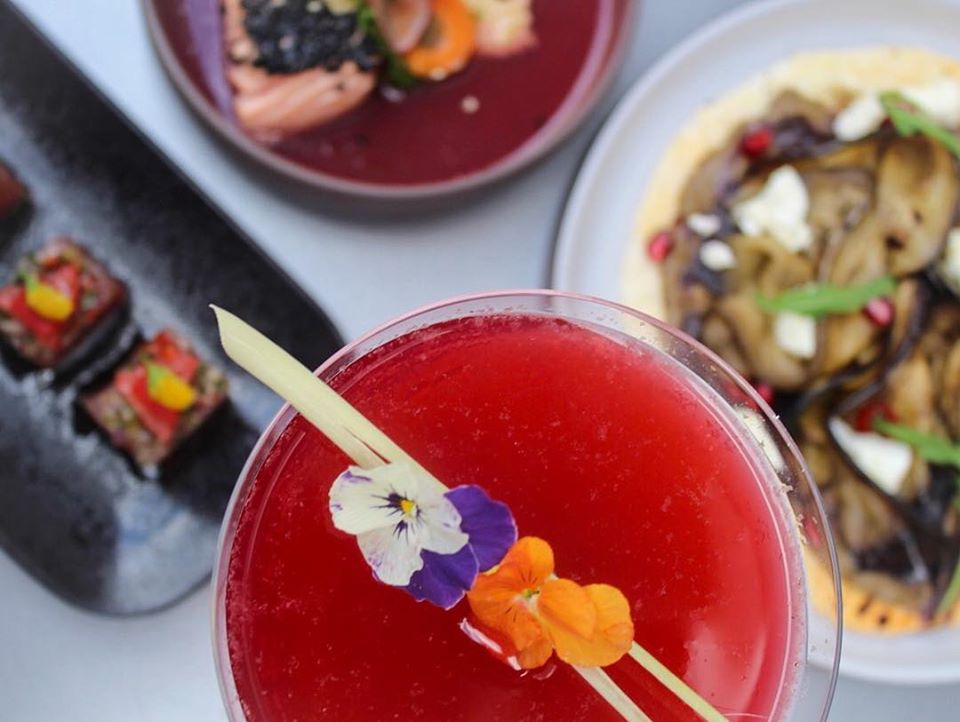 Winter graduations
$$ - $$$
30 minutes away from the city, this concept is probably the most unique one of this list. On the panoramic terrace of the hotel, you will be able to enjoy the classical Swiss dish while staring at the breathtaking view it offers. The gondolas are decorated in classical Swiss style and you truly feel as if you were in a cosy chalet after a good ski day. This is a great place for a winter graduation dinner, especially for those of you who love the mountain when it is full of snow, but also for those of you who know are going to miss all the cheesiness.
The only downside is that one gondola can only fit four people and there are only three, but if you book in advance, you are sure to have a place for your special dinner.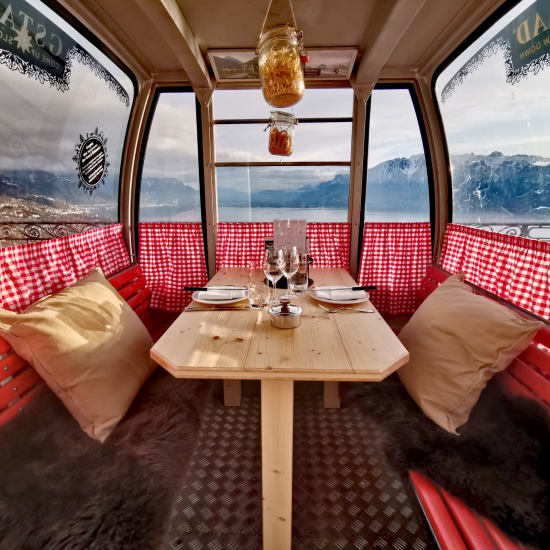 $$ - $$$
This chalet is another great option if you wish to dine in a true wintery, Swiss atmosphere. The restaurant is surrounded by a forest, which makes it the perfect place for your graduation dinner. Being so close to the lake, you wouldn't think of such an atmosphere however the decorations and local delicacies will remind you of the great times you spent with your friends during the last years.
Located in one of the best hotels in Lausanne, this experience will also allow your relatives to enjoy a true Swiss evening, maybe for the first time (or maybe not). In any case, it is a good way for them to get a taste of your life in Switzerland.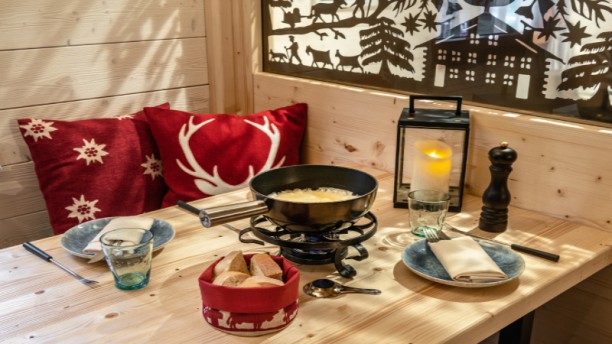 Summer graduations
$$$$
A spectacular view over the lake, dishes to share with your family and one of the best hotels in Lausanne. This restaurant as well offers a concept meant for you to order various dishes and share them with the whole table (I mean, how many times did you hesitate between various options? Now you can have them all!) The wine list is just as nice as the view and your family will for sure be astonished by this unique view over the city you don't get to see from the ground.
The name couldn't be more appropriate, you definitely feel up in the sky, especially during dinnertime after a sunny day when you will be lucky enough to see a breathtaking sunset over the Alps.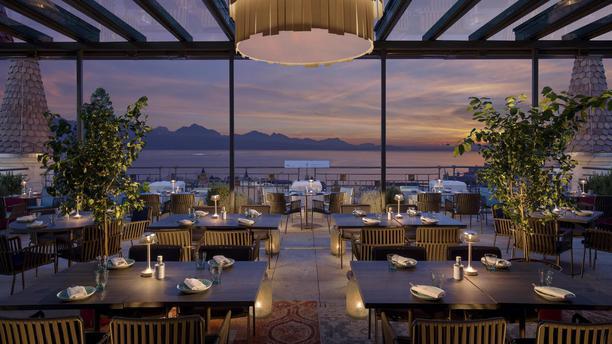 Le Deck, Le Baron Tavernier
$$$$
You probably won't be surprised to see this restaurant on the list, you probably came here more than once during your life in Lausanne. Distant only 20 minutes by car from downtown Lausanne, the restaurant has an idyllic location, overlooking not only the lake and the Alps, but also the gorgeous Lavaux. In addition to this beautiful view, you will also taste the gourmet cuisine together with a fresh and delicious cocktail.
Maybe lesser known than the other hotels, le Baron Tavernier is located in the midst of the UNESCO site of Lavaux and offers a unique experience to all of its guests, which makes it the perfect venue for the graduation dinner; a perfect moment to enjoy one of the most beautiful views in the world.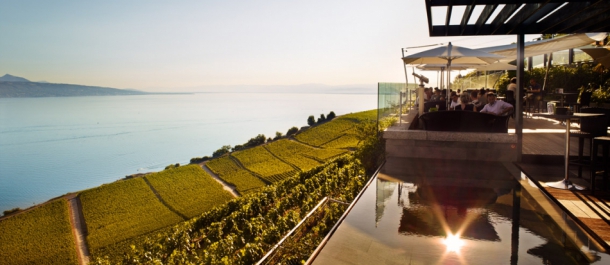 $$$$
Last but definitely not least, this floating restaurant is a one of a kind concept, perfect for such an occasion. You and your family will have the chance to experience an excellent gourmet cuisine from the Beau-Rivage chefs. The whole dinner is a buffet, with various options for you to choose, which allow you to have a delicious dinner all the while enjoying the cruise, thanks to the more flexible dinner that a buffet offers compared to a sit-down dinner.
What better way to end your EHL years with a cruise, just like the way you started those a few years back with an afternoon cruise during your Introweek.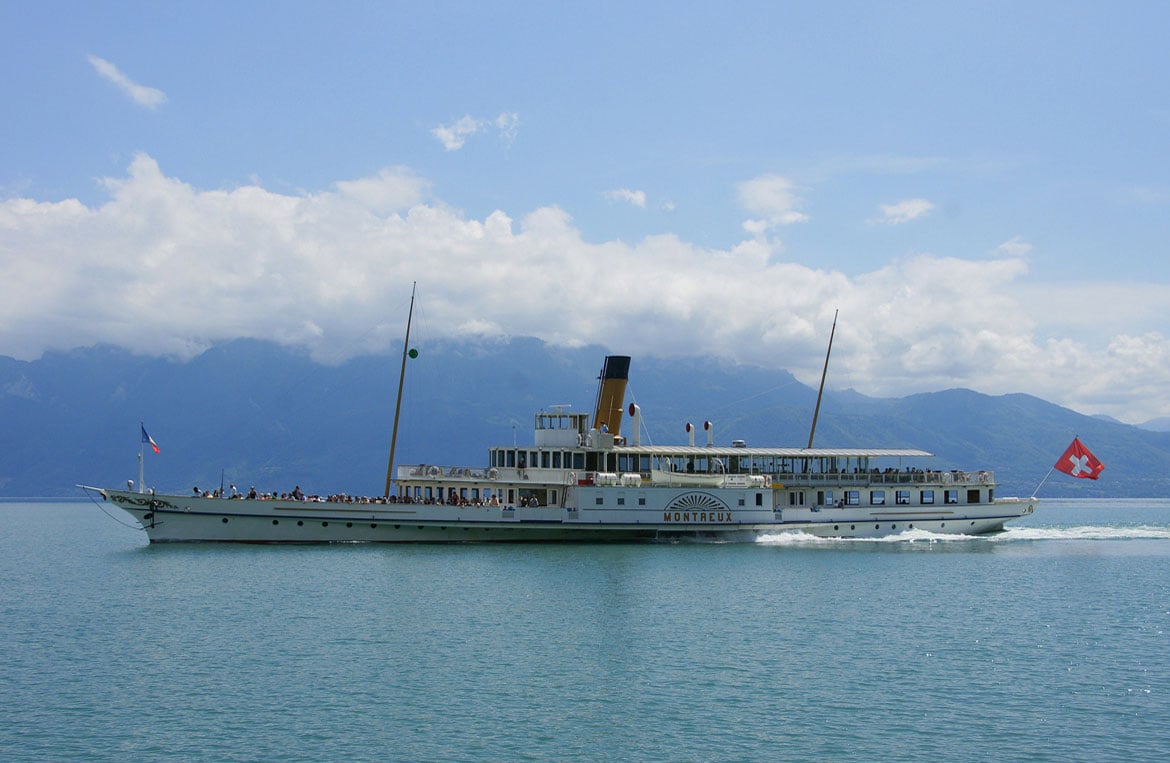 All the above options are equally fantastic for your family graduation dinner however, if you really wish to dine in one specific place, make sure you check the booking availabilities enough time in advance.
One last bit of advice: a few days before your booking, make sure to call the restaurant and tell them that you go there for your EHL graduation and that it would be great to have the table with the best view. They will do their best to please you!